KO-ed Brody
Part 3 - Open Wide
By Kyle Cicero
Email:
kysen1@yahoo.com
Previous page
Chapter Three: Open Wide
Slowly the doctor moved the examination stirrups apart taking fiendish delight in unveiling an intimate part of Brody's anatomy the smug young stud never showed to others. "Average leg muscular development for a young boy," he lied as he squeezed and fondled the powerful legs of his victim. If he were being honest, the doctor would admit that Brody's legs and thighs were more than adequate. His powerful calf muscles alone were wet dreams come to life for anyone into that part of a man's body. Slowly the doctor "examined Brody's inner thighs enjoy the feel their soft skin area. Brody's legs were only lightly haired. Yet, those pale blonde hairs only contributed to their sex appeal.
"Is all this necessary doctor," Brody meekly inquired. By now he was experiencing total vulnerability. He was on his back and his legs were spread apart. Worse, in his mind, a guy was repeatedly touching him between his legs. "You're not trying to cop a cheap feel are you doc," he tried to joke in a feeble attempt to break the nervousness he felt.
Doom grabbed at that opening. "I…how dare you imply," he yelled in mock anger. "As a professional I am highly insulted. It this is what you think then leave now!"
"No," a panicked Brody hastily responded. "Doc I'm sorry. I was just kidding. Really please do whatever you want. I'm total cool about it," Brody pleaded.
"Well," Doom sighed with an exaggerated manner. "I forgive you. I guess little boys do get overly nervous. Lay back so I can get my finger in you but if you say one more objectionable…"
"No I'm okay," Brody answered as he lay back down. Doom saw that Brody had squeezed his eyes tightly shut. "Terrified but compliant ," Doom approvingly noted as he pushed Brody's legs fully apart. He gazed at his prize. There, between the powerful legs of the muscular young athlete lay Brody's anal entryway. It was deliciously pinkish in hue with barely a dusting of light short hairs. "Just like a small pink summer rose," he muttered.
"What doc," Brody lightly asked. "I did not hear you." He opened his eyes and gazed downward. A shocked expression came to his good-looking face as he took in the sight of the older man standing between his splayed muscled thighs. "Shit," he moaned as he laid his head back onto the surface of the examination table.
"No actually you are quite clean down here," the doctor gleefully replied as he moved a lubricated finger to the anal cavity and began gently massing in the oils that would make entrance in this undefiled cave that much easier. "Little boys are sometimes careless when they wash." He saw Brody blush at that comment. Part of Doom's plan was to shame Brody at every opportunity. He expertly ran his finger along the tightly coiled ring muscles. He had, at first, wanted to spend a few minutes rolling Brody's nuts but then decided to "go for the gold" instead.
"Fuck," Brody, grunted as he squirmed upon the table. Doom worked his finger massage techniques on the young hunk. Brody unexpectedly gasped. He pressed his head down harder onto the table's surface. "It kind of tickles," he rasped as his breathing deepened.
The doctor worked the ring muscles knowing it was causing pleasure to his prey. By now Brody's sphincter was constricting and then relaxing. At various points, the stud's body shivered under the physical stimulations.
"Fuck," Brody unexpectedly wheezed in a tone of voice that clearly displayed his enjoyment. His ring muscles unwound. He was ready!
"Try pushing down on my finger," Doom softly stated. "We seem to have fully prepared you for my penetration."
Brody complied without hesitation. His rump moved slightly downward then stopped. "Fuck," this isn't going to happen," he yelped as the doctor's fingertip barely got into the hole.
Doom was not about to give up. " You can do it," he encouraged as he pressed on the defenses that heretofore-guarded Brody's anal virginity.
"I honestly don't think you will get anything in me. AW FUCK!" Brody loudly yelped as the doctor 's finger rammed into him. His eyes popped fully open. "It's in me…fuck," he grunted.
"Relax my boy," Doom triumphantly interjected as he began fingering fucking the young man. The room grew quiet as Doom maneuvered to get Brody's anal muscles to completely relax. "His inner chute area feels like satin, " Doom silently realized as he slowly managed to get a second finger into the now heavily breathing athlete.
"God. It feels. It feels," Brody moaned as he lay on the table, his powerful legs thrust apart getting his first anal hand job. Sweat broke out on his muscled torso and a light reddish blush rose from his neck area up into his face. "Aw shit," he gasped.
"Just breathe and concentrate on the sensations." Doom told him knowing Brody was subliminally getting off on this activity. He received actual confirmation of this fact when he soon happily noticed that Brody's manhood was quickly becoming semi erect. With cruel delight he pressed his fingers forward until he found his goal: Brody's prostate. Gingerly he tapped it with his fingertips. The effect on his patient was immediate.
"Holy shit," Brody exclaimed as his strong torso unexpectedly jerked upon the table. "Aw fuck," he whined as Doom proceeded to pound on the prostate. By now Brody was breathing at a quickened pace. He raised his head off the table and stared at Doom. The evil genius could see that Brody's pupils we dilated. A new erogenous zone in the young hunk was finally being exploited. "Shit," he wheezed as he blinked then simply let his head plop back down. "Shit," he murmured while his dick grew in size.
Doom observed that Brody was now gripping the sides of the table. As the stud continued his mumblings another physical reaction followed. Brody was getting totally erect!
"Doc. Doc," Brody wheezed as the cords on his forearms tensed their grip on the sides of the table. Brody's stomach muscles began a series of contractions. "Fuck. Ah fuck," Brody whispered to no one in particular. Small beads of pre-cum suddenly oozed from the slit on his cock-head. They glistened as they dripped down his thick long dick. "Fuck," Brody babbled over and over now.
Doom realized that, judging from all this activity from him as well as an erection that was now at full staff, his victim was close to his first anal induced orgasm. He quickly grabbed the nano chip with his other free hand. Removing his fingers from Brody's hole, the doctor placed the chip on one of his greasy fingertips then quickly reinserted the finger back into Brody's guts. He thrust it forward and jammed it on Brody' prostate. As he did, the nano activated and its tiny pincers attached themselves to that organ. The nano vibrated slightly inside Brody. That was all it took.
"Ah shit I'm…..," Brody wailed as his cock twitched then spewed out a geyser of spunk. It was quite a respectable amount and, after, reaching an impressive height, it splashed back down onto Brody's crotch and abdominals.
Doom slowly withdrew his fingers from Brody's butt-hole. "Your prostate is fine. Get up and clean off."
A heavily panting Brody leaned up onto his elbows. He gazed in shock at the doctor and then at his deflating cock. Finally his eyes came to rest on the glistening pools of cum that lay in the crevices of his hard eight pac. "I...I," he sputtered clearly humiliated by his orgasm.
"Normal," Doom stated in mock seriousness. "Boys cannot control themselves. True you did….well it seems you…surprisingly now," he softly stated. "Never mind."
"What doc," a frantic Brody asked as he sat up and got onto his feet. He stood before doom in his full naked glory.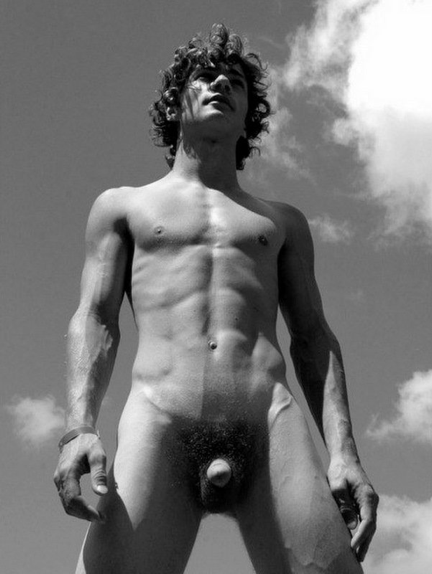 After a few seconds Brody realized this and consciously pushed his, now wet, signature blonde curly "mane" away from his face. He gazed down to see his cum was now dripping down each of his strong thighs. He blushed and quickly brought his hands in front to cover his shrinking dick. "What?"
"Well," Doom sighed feigning indifference. "You seemed to be …enjoying it…but no matter. It is not my concern if you sexual ejaculate when penetrated. Now get dressed," Doom quickly added cutting off Brody from any protest. "I've a report to write young boy so, be off with you," He moved behind a stunned Brody and swatted his victim's rump.
"Ow," Brody lightly said as he moved a hand backward to rub the struck area.
"Don't be a baby," Doom laughed as he took in the delicious sight of his red handprint upon the pale skin of Brody's dimpled, bubbled buttocks. "Get dressed. I'm going to give you a liquid vitamin to drink before you go."
Brody nodded and walked away to get dressed. By now he would do anything asked just to get away. As he walked flecks on his spunk flew from off his crotch and stomach area. He flushed red with shame. "I popped my wad," he murmured while getting …fucked."
"Don't forget to wash up too. Don't want your underwear sticking to parts of your body now do we," Doom teased. "I must make a note of how you seemed to be overly stimulated by the prostate exam. Such a huge amount of seminal fluids could indicate indicate you probably enjoy…what do you call it…ah yes…pegging. Well, no time to discuss your anal cravings right. Off with you, I have that report to complete."
Brody turned slightly sideways towards the doctor giving his tormentor a nice side view of his naked prey.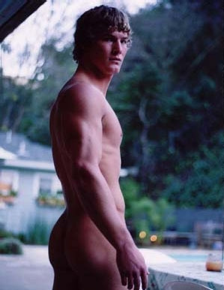 Brody opened his mouth to say something about what he had just heard but simply left to dress instead.
"Gave you something to worry about didn't I, boy ?" the villain silently chuckled. "I bet my remarks on your ejaculation will haunt you for days now ." Doom could barely contain his happiness as he prepared the "vitamin" that would help on the second part of his plan. He later quietly watched as a very subdued Brody drank down a copious amount of the special vitamin before he ran from Doom's office.
Next page